Gods Work, Our Hands
GOD'S WORK, OUR HANDS
Immanuel-Trinity Lutheran Church experienced great cooperation from the beginning of "God's Work Our Hands" projects started mid-year 2015 – which continues on into 2020. Hopefully that was the beginning of Immanuel-Trinity's outreach into the community this year and the future.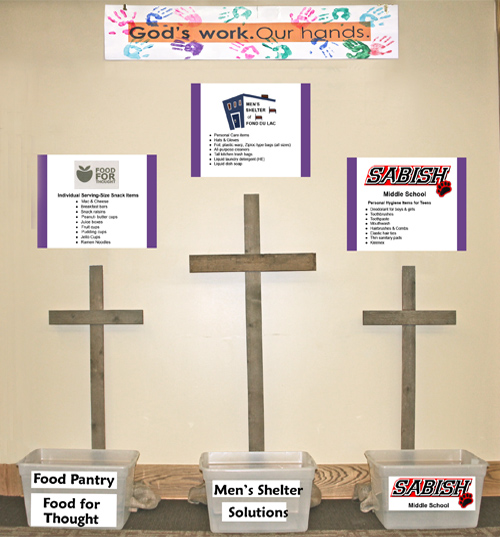 Projects in 2020 include:
Three Crosses Lenten Outreach – Generally Lent is a time in which we "give something "up". This year we invited the members of Immanuel-Trinity to "Take something on!" Jesus said "Take up your cross and follow me". Three Crosses are the focus.
Starting in late February and beyond, collections will be for:
One for "Loaves & Fishes" is collecting (No.10 size cans) of fruit cocktail.
Another cross to support "The Solutions Center"–.which continually needs personal care items including hats & gloves. Volunteer help is always needed.
A cross to give support for "Food for Thought"– continues to need individual snack items, boxes of mac & cheese, breakfast bars, snack raisins, juice packs and individual fruit/pudding packs as they pack over 670 weekly back packs.

No JELL-O please!
Green Thumb Project — "Green Thumb Project" for Lutheran Campus Ministry at UW Oshkosh again this year. The plants are started by members, delivered to church later in August. Plants donated will be on all the window sills in the sanctuary and other areas after members bring in during mid-month in August.
Up Coming — Three Trees Project- known as "THE GIVING TREES" may start again in November 2020, supporting Salvation Army, Food for Thought and Elizabeth Walters Elementary School.