Adult Education Opportunities
ADULT BIBLE EDUCATION
Together we will be study the Bible book verse for the Gospel lesson of the day.
Bible Study Sessions start 9:30 am Sundays after 8:30 am Worship service, in the Council meeting room
Our sessions are about one hour.
Growing in our faith relationship with God is a life-long endeavor.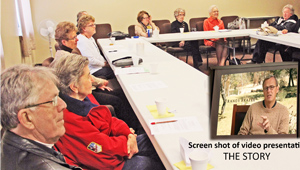 Learn how it instructs us in the ways of the Lord. Share your thoughts and feelings about what the Bible says and how it relates to daily life.
The Adult Education class meets in the Council meeting room near the South entrance to the Narthex on Sunday mornings at 9:30am. The Sunday morning class covers a variety of fascinating topics. Other Book Study classes are scheduled and meet in various available rooms.
Please join us for a spiritual, enriching time together!
************************************
WEDNESDAY NIGHT BOOK CLUB
Book Sessions start 6:30 p.m. Wednesdays
In the Fireside Room
Sessions are about one hour.
Starting November 6, 2019
"Uninvited: Living Loved When You Feel Less Than, Left Out, and Lonely"
The enemy wants us to feel rejected . . . left out, lonely, and less than.
In Uninvited, Lysa shares her own deeply personal experiences of rejection--from the perceived judgment of the perfectly toned woman one elliptical over to the incredibly painful childhood abandonment by her father. She leans in to honestly examine the roots of rejection, as well as rejection's ability to poison relationships from the inside out, including our relationship with God.
Join Wednesday nights at 6:30 pm as we read through this book and work through these questions in our own lives.
All are welcome to join Wed nights at 6:30 pm. in the Fireside room.
**************************************