Gods Work, Our Hands
GOD'S WORK, OUR HANDS
Immanuel-Trinity Lutheran Church experienced great cooperation from the beginning of "God's Work Our Hands" projects started mid-year 2015 – which continues on into 2019. Hopefully that was the beginning of Immanuel-Trinity's outreach into the community this year and the future.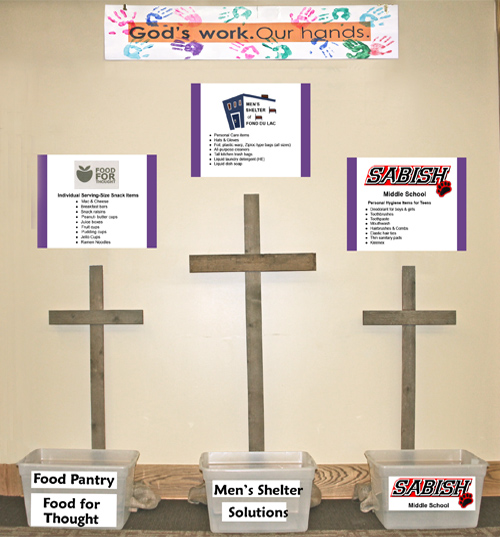 Projects in 2019 include:
Three Crosses Lenten Outreach – Generally Lent is a time in which we "give something "up". This year we invited the members of Immanuel-Trinity to "Take something on!" Jesus said "Take up your cross and follow me". Three Crosses are the focus.
During April and beyond, collections were ongoing for:
One for "Elizabeth Walters Elementary School " with an ingathering of hats, mittens, socks and underwear for elementary-middle school children. Please check the weekly bulletins as needs change,
Another cross to support "Food for Thought"– Continues from 2017 with Immanuel-Trinity members donating items. Fond du Lac Food Pantry is also in need of many items. Click NEEDED ITEMS for information as the months needs change.
A cross to support for the "Men's Shelter", hats, gloves, shampoo & personal care items.
Green Thumb Project – "Green Thumb Project" for Lutheran Campus Ministry at UW Oshkosh again this year. The plants are started by members, delivered to church later in August . Plants donated will be on all the window sills in the sanctuary and other areas after members bring in during mid-month in August. August 25th is the deadline.
Up Coming – Three Trees Project- known as the "THE GIVING TREES" started again in November 2018, supporting Salvation Army, Food for Thought and Elizabeth Walters Elementary School.