Cookie Walk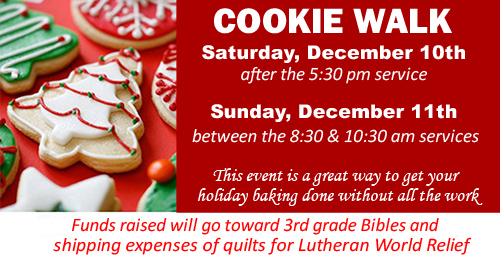 Attention Bakers!!
The annual WELCA Cookie Walk is scheduled for December 10,and 11, 2016. Martha/Ruth Circle will be hosting that event this year.
The cookie and candy sale is used to sponsor the Bibles for third graders and shipping expenses of quilts for Lutheran World Relief.
Please bring homemade cookies and/or candy to the church kitchen on Friday morning December 9th or Saturday morning December 10th.
Cookies and candy will be available after the 5:30 pm service on Saturday and between services on Sunday of that weekend. This is a great way to get your holiday baking done without all the work.